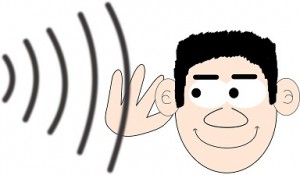 What is the actual connection between hearing loss and tinnitus? I often hear people tell me that my hearing is gone down because of tinnitus. I myself am guilty of saying the very same thing.
Join me as we explore this topic.We will talk about hearing loss in general. What are some of the causes of hearing loss. Then we will touch on the different types of hearing loss and about ways of preventing it. Finally,we get to find out if tinnitus really aggravates hearing loss.
Does this sound good to you? Great, let's move on.
What is Hearing Loss?
Hearing loss or hearing impairment according to Wikipedia, "is the partial or total inability to hear." Deafness, on the other hand is profound hearing loss.
Some facts about hearing loss
More than 28million people in U.S are deaf or have hearing loss
Older people are most affected,30 to 40% are aged 65 or older
Children also develop hearing loss- thereby affecting language and social development.
Every year about 1 of 5000 people develop sudden deafness
Types of Hearing loss
Basically there are two types of hearing loss, Conductive hearing loss and Sensorineural  Hearing loss.
Conductive hearing loss – Any mechanical problem in the ear, be it the external ear canal or the middle ear that blocks the conduction of sounds is classified as a conductive hearing loss.
Examples of Conductive Hearing Loss
Chronic Middle ear fluid

– Infections like otitis media(middle ear infection) with fluid build-up.

External ear obstruction

– Can be caused by wax build-up, tumour or even pus from an infection.
Eardrum becomes

perforated

.
Conductive hearing loss is common in children. Allergies for instance, blocks the Eustachian tube, which is responsible for draining the middle ear. As a result, fluid build up cause a loss in hearing.
Sensorineural Hearing Loss– This is hearing loss as a result of damage to the sensory structures( cilia or tiny hair cells) of the inner ear, the auditory nerve or the pathway of this nerve.
Examples of Sensorineural Hearing Loss
Drugs

– A certain class of antibiotics like the aminoglycosides, can cause ototoxicity and hearing loss. Aspirin has also been known to cause hearing loss but is reversible once the drug is stopped.
Genetic or Hereditary

Tumors

of the Brain

Chidlhood infections

e.g Measles, meningitis (I was told that I was a very sick child when I was born. I had severe infections and it is the probable cause for loosing the hearing completely and permanently  in my right ear)
Meniere's Disease
Loud Noise – Long term and repeated exposure to loud noise causes the hair cells in the inner ear to be destroyed. Very Simply put , the louder the noise, the less time it takes to suffer hearing loss. Exposure to loud noise may leave a person with high pitched ringing in the ears which we call tinnitus.
It is very common for someone to have a combination of the above two types of hearing loss.
How do we prevent hearing loss?
Preventing hearing loss is not as easy as ABC. We have got to look at what the actual cause for the loss is and work accordingly.
For instance, If the hearing loss is as a result of aging, then, these types of hearing losses are not preventable.
However, we can initiate steps like avoiding exposure to loud noises. Making sure earphone volume is

reasonably low

and exposure time is kept to as short as possible.
Ear plugs protects one from exposure to occupational or firearms noise.
Tympanostomy- is a process of inserting a tube into the middle ear of children or adults that helps with preventing fluid build-up.
Reconstructive Surgery – may be needed if there is damage to the eardrum or the bones within the middle ear.
Brain Tumours – can be surgically removed thereby preserving whatever hearing is still available in the ear concerned.
Sometimes not much else can be done, other than to compensate for the hearing loss as far as possible. This involves the use of hearing aids. If the hearing loss is classified as more severe , then another option is that of a cochlea implant.
Tinnitus- a Quick Re-Cap
We know that tinnitus is NOT actually a disease but rather a symptom.
A symptom of WHAT??
I have discussed this in my article, " What is Tinnitus," but it is worthwhile mentioning it here again. Tinnitus may be a symptom of ear-related conditions.
These include, as a result of loud noise exposure, ear-infections, Meniere's Disease.
Tinnitus may also be a symptom of non-related ear conditions.
These include conditions such as anemia, hypertension, under-active thyroid gland (Hypothyroidsim),arterioscleorisis, and blows or injuries to the head.
For the sake of this discussion, I would like to focus on tinnitus as a result of ear-related problems which accounts for about 75% of the cases.
Connection between Hearing Loss and Tinnitus
There are a few days when my hearing is so good, that I feel like I want to jump over the moon. It's like a dream that is so surreal and it feels amazing. I can watch movies like before, engage in conversations without a struggle. I don't even have to use my hearing aid!
Unfortunately, this is overshadowed by the more darker days that I get, where I struggle to hear. The tinnitus hits me with a vengeance and the roaring noise is even louder . On these dreaded days, I even get a feeling of fullness in the head and feel all blocked up.
So, do you see where I am coming from? 
Very simply put, the main point to drive home here is that when my hearing is good, the tinnitus was down, and almost negligible and when my hearing was bad, the tinnitus was more pronounced.
Hearing loss aggravates my tinnitus. I have visited two E.N.T's this year. The one is of the opinion that the pattern of hearing loss and tinnitus in my case is consistent with a disease called Meniere's Disease whilst the other one thinks is it more of a viral infection.
Is there a root cause to your Tinnitus?
I always believe that there is a reason for everything. There is certainly a reason for your tinnitus. Perhaps looking at some of the causes(of hearing losses) above may give you an idea of the origin of your tinnitus. Or maybe it might not.
If you are able to determine the source, then it can make managing the tinnitus more easier.
Look, in my case I have to take specific medication. I have found that managing my stress levels by using the techniques and lifestyle modifications outlined previously, helps.
It is a long journey, but I can tell you that from where I had started to where I am today,  the tinnitus has become more easier to deal with.
Conclusion
Hearing loss and tinnitus, certainly share a connection. Though your tinnitus is there and its persistent,getting to the root cause might give you a clearer picture of what is happening to you. This gives you an idea of what to do to treat it.
It will take time, but something can DEFINTELY BE DONE. Don't let anyone tell you that there is nothing that you can do.
Help is here for you, and its here to stay. Don't Despair.
Take Care and God Bless
Roopesh