Hi everyone
Before we discuss the ways on to how to treat swimmer's ear, let us define what exactly is Swimmer's Ear. Swimmer's Ear is one of the many causes of outer ear disorders or external otitis.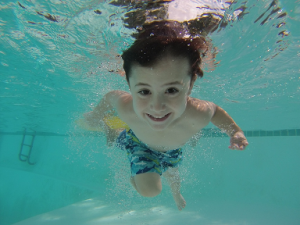 What is External Otitis?
This is an infection of the ear canal.
External otitis or otitis externa may affect the entire ear canal or just a portion thereof, such as in the case of a boil or a pimple.
Here are some of the common causes of external otitis
Bacteria

, and in some

cases Fungi

,
People with

allergies, psoriasis

, or

scalp dermatitis

may be susceptible,

Injury

of the ear canal, whilst cleaning,
Irritants such as

hair spray or hair dye,

Swimming in fresh water pools(

Swimmer's Ear

).
So, swimmers ears is the condition whereby due to prolonged water exposure or humidity compromises the protective barriers of the ear canal skin thus allowing infection to occur. 
What are the common symptoms of External Otitis?
An acute infection of the external ear canal will cause people to feel one or more of the following symptoms depending on the severity,
Unpleasant white

or

yellow discharge

,

Swelling

or

inflammation

,

Itching

and

Pain,

If there is pus along with inflammation, then the hearing might be affected,
Did You Know?
That wearing ear plugs and hearing aids are likely to cause external otitis and more so, if they are not properly cleaned!!!
How to treat Swimmer's ear?
Okay, this would be depend on how bad the infection actually is.
If it is infected, then a doctor would first have to remove the infected debris from the ear canal by suctioning it up or by using dry cotton wipes.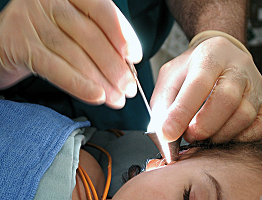 Once this is done, the hearing should go back to normal.
If the infection is more persistent, then antibiotic ear drops inserted into the ear for a week for up to three or four times a day, usually does the trick!!!
Some ear drops may also contain a corticosteroid. This helps with the inflammation and associated pain.
Orally, one can take Paracetmol(Acetaminophen), analgesics or a combination with Codeine during the first 24-48hours, until the pain subsides!
Is there a way that I can prevent Swimmer's ear?
Absolutely!!!
As I mentioned before, Swimmer's ear is an infection of the ear canal. Most often caused by a bacteria called Pseudomonas aeruginosa.
By treating this bacteria with vinegar, it helps to kill it off. Vinegar allows for the normal acidity to be maintained in the ear, which does NOT allow the bacteria to grow anymore.
So, you can prevent swimmer's ear by putting drops of a solution that is made up of, half of rubbing alcohol and half vinegar in the ear before and after swimming!!
Check this quick short clip out, courtesy of The Health Fixer

Another thing is to avoid swimming in polluted water, using hair sprays and spending too much time in warm humid cultures, until the discomfort wears off.
Things to do after swimming
Dry your ears well with a towel,

Tilting you head to one side at time

whilst drying allows for

proper drainage of water

,

Pulling gently on your earlobe

also helps for proper drainage.
Some product suggestions
For those of you who are looking for ready-made ear drops preparations to use, you are in for a treat.
I have reviewed two fantastic ear drops products below. I think either of these two will do the job for Swimmer's Ear.
So please be sure to check them out!!!
1.Hyland's Earache Drops, Natural Homeopathic Cold & Flu Earaches, Swimmers Ear and Allergies Relief, 0.33 Ounce
Made By : Hyland's Homeopathic

Price of Product : $6.73
Where to Buy : Amazon.com or ebay.com
Overall Rating : 4.4 out of 5stars
About this Product
Essentially this is a Homeopathic product and as such it:
Has no interactions with antibiotics or other medications,
Safe for Adults and Kids 2years and upwards,
Non-habit Forming,
Contains no Aspirin or Acetaminophen,
How Does this product Work?
This product helps to temporarily relieve the symptoms of

fever, pain, irritability and sleeplessness

that is associated with earaches in adults and children alike,
It also helps to relieve the pain and itching that is common in Swimmer's Ear.
It helps to relieve earache symptoms that may be associated with conditions such as

colds, flu and allergies

as well.
It is effective within

the first 48hours

of an onset of any episode.
My Take on this product
As a pharmacist, I am all for natural therapies as well. I do believe that they have their place and would certainly recommend this product here.
I strongly would advise against using it if you suspect that your eardrum may be perforated or if there is a pus or discharge coming from the ear. I would seek medical attention in these instances.
Having looked at the active ingredients, the Belladonna is great for treating fever, the Chamomilla for sleeplessness and irritability and the Pulsatilla for ear aching pain, all in a unique formulation.
It was interesting to read that one of the customers used this product for their German Shepherd and found it to work wonders.
I think it is worthwhile to give this product a try.
---
2.Swim-Ear Ear-Water Drying Aid, 1 fl oz (29.57 ml)
Made By : Swim Ear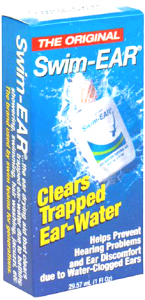 Price of Product : $5.91
Where to Buy : Amazon.com or ebay.com
Overall Rating : 4.5 out of 5 Stars.
About this Product
This product helps to get rid of water that gets trapped or clogged up in the ear, caused after bathing, showering, diving or hair washing.
As a result it prevents the ear discomfort or any pain that may be associated with clogged up ears.
How does it work?
It basically consists of 95% Isopropyl Alcohol, which acts as a drying agent. By this action, it relieves the discomfort and the sensation of fullness or any related hearing impairment.
My take on this product
I think this product is great to keep the ear clean and clear. It can be used everyday. Some people swear by the product and having used it for over 30years!!
Some people have reported that it helps with the removal of ear wax. That is interesting to know.
I think because of its primary ingredient namely the alcohol base, one should make sure that the skin of the canal is not sensitive in nature. As it may cause slight burning, which may be discomforting.
Should this be the case, rather go for my option 1.
⇒Now that you know how to treat Swimmers Ear, why not learn more on how to take care of the ear. Read, "How to take care of the ears."⇐
Conclusion
You have learned today, what otitis externa is and that swimmer's ear is one of the causes of this condition. You have also gained an idea on how to treat swimmers ears, should you or someone you know is affected, then you know exactly what to do.
Before I leave you, just a quick reminder not to forget to check out my latest blog on what is happening regarding Tinnitus, the feature topic of this site.
Here is the shortcut,
⇒What is the Tinnitus Terminator?⇐
Thank you very much for stopping by and I hope this article has helped you.
Please feel free to share using your favourite social platform with your fellow family  and friends.
Sharing is Caring
Thanking You
Roopesh