Review of Tai Chi for Beginners
Hi all, welcome to my review of a workout program called, "Body Mind Wisdom Tai Chi for beginners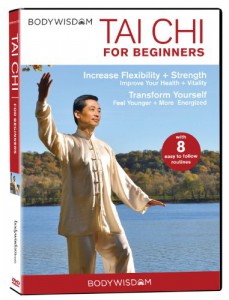 Previously I have chatted about Tai Chi. Its importance not only to helping with tinnitus but to your general overall health and well-being. If you would like to read more, here is the link to my article,' Does Tai Chi work for Tinnitus?  You will find information about the Tai Chi practice, its origins as well as its differences with Yoga.
Before I jump into the review of this program, I would like to discuss home based programs in general.The benefits that a home based program offers. Then I will cover the important things to look for when selecting a Tai Chi home based program.Finally, we will chat about my recommendation to you.
Ready!! Great! LET'S START!!!
So, How do Home based programs actually work?
Have you ever tried a home based program before? Some of you have and some of you have not. For those of you that have done this before, you can skip over to the section where I talk about the important requirements that a Tai Chi program should have.
I have listed a couple of questions below for you. After going through them you will have a more clearer picture of what a home based workout is all about.
The point here to get you more comfortable with the idea. So before you even look at my recommendation below of a great Tai Chi home workout, take a moment to answer these questions below.
'Can I picture myself doing this at home?
'Do I have the time for this?
' Do I have the drive or commitment to see the program through?'
' What will motivate me to keep doing this especially when I feel that I am slacking?
' Am I open to learning from an instructor, who will not be able to see if I am doing the style correctly?
'Am I ready for this awesome challenge?'
So, how did you fair? Do  you feel more confident now in doing a program having an idea of what it is all about?
If you are not sure, it's not the end of the world. Different strokes for different folks. I don't like the idea of forcing anyone into doing something that they are not yet ready for.
I believe when someone is ready and willing to do it by themselves, the results are nothing short of amazing.
The benefits of a home based program
You work in the comfort of your home, no gym fees, no driving out, no gas or petrol expenses.
You save time, prioritize a workout, 10-20minutes. Then you move on with your next daily chore.
You make your own schedule – No need to book any appointment for classes at gym or schools on certain days. You do what you want to do, when you want to do it.( Just try keeping to the schedule!!)
You learn self discipline and patience.
You learn to motivate yourself. You also get to know  more about yourself, like finding out what motivates you on your good days and what brings you down on your bad days.
When nobody is watching, you get to jump up and down like a crazy person and scream…when you accomplished your goal.(People think you a psycho if you behave like this in a gym!)
Important things a Tai Chi workout should have
Going through this list below will make things easier when choosing a specific Tai Chi program. In fact, you can use this list when selecting any home based work-out program. The program must be.
Reasonably Priced
Popular-Reviews will tell you a lot about the program by the people who have used it, and if it does the job.
Easy to do- This goes without saying, the program must be user friendly and inviting to do.
Navigation on DVD, menus must be easy- You don't want to waste unnecessary time looking for the routine to start off with.
Menu options clearly readable.
Instructor's  voice must be clear and things should be explained in "lay mans" terms..
Learning styles must be easy to grasp.
Background music must be appropriate and not compete with the instructor's voice.
Less monotony and more variety – Overall experience must not be a boring or dull workout.
The choice I have selected covers the above-mentioned criteria.
BodyWisdom Media  Tai Chi for Beginners
Name of Product: BodyWisdom Media: Tai chi for Beginners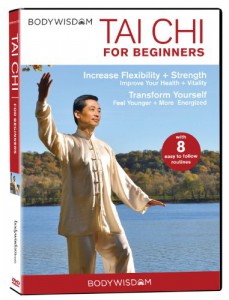 Price: $12.99
Actor : Chris Pei
Where to buy: Amazon.com
Overall Rating : 4.3 out of 5
A little background to the actor, Chris Pei. He is the president of the USWA(United States Wushu Academy).
He is a world renowned Tai Chi instructor and teaches across Canada, the US as well as in Europe. He  has represented the United States in competitions and demonstrations worldwide and worked with some of the top world masters of the U.S. and China.
His passion and work with Tai Chi has made him the chosen translator for important families at major conferences.
About this DVD.
8 Customized lessons to learn the Yang style of Tai Chi.
These lessons range from 10-30minutes.
Exculsive interview with instructor.
Over 3.5 Hours of instruction.
Pros
Easy to follow , step by step instructions.
Low impact exercise making it safe and effective for everybody of all ages.
Multiple Camera angles, allows you to see moves from different angles.
Chris Pei points out common errors.
Simple Menu Navigation
Good Sound and video quality.
Instructors voice is clearly audible over the music.
Cons
Too Slow-  The movements in the warm up and lessons may be felt to be too slow or boring. Later on however the pace does pick up.
'Mirror effect' not present.Some people have found it hard to follow as the instructors don't clearly mirror the movements to you.
I have now come to the end of my review on Tai Chi for beginners.
Let us not forget the purpose of Tai Chi, to ultimately build strength, improve health and flexibility, to reduce stress and maintain flow and balance to your mind, body and soul.
You never know what will work and what won't. It's all about trying. You might even be surprised.Who knows, maybe after you've done this workout, you may even become a Tai Chi instructor.It's all up to you.
I leave you with a quote from Chris Pei, " The essence of Taiji is the constant refinement and expression of one's own spiritual self."
Thank you for spending time at my site.
I hope you that you have enjoyed this article and found it of use.
You are welcome to leave any comments or views below.Please share with others whom you think will benefit from this article.
Kind Regards and See you soon!!
Roopesh