Welcome everyone to my review of some easy home exercise workouts
As you know by now, the purpose of this website to help you deal with your tinnitus. If you visit some of my previous posts, you will find that I have talked about various relaxation therapies, activities, and lifestyle modifications to help with tinnitus.
Below are some of my personal recommendations of easy home exercises to help with not just your tinnitus, but with your mental and physical well-being as well. Unlike the intensity of the Zumba and p90x, programs, these workouts are more easier and less intense.
A healthy mind and body is the perfect recipe to combat stress. Exercises is a path that one can take to lessen your stress. Ultimately, by lessening your stress, you doing yourself a world of wonder. One which includes lessening your tinnitus.
Sounds great doesn't it, awesome, lets move on…
So why easy home exercises?
Alright, I have already offered dancing and the p90x programs as exercise programs to help with tinnitus.
They work well, but they don't work for everyone. For instance the elderly and physically challenged individuals may not be able to do the above-mentioned routines. I thought, that this is a wonderful opportunity for me to introduce some easy home exercise workouts to you.
What are the advantages of gentle home exercises?
Done in comfort of your home.
Easy to follow or learn
Short in duration
Makes you feel Good and Alive.
Ready …..lets get into it.
1.Gentle Fitness DVD Program
Name of product: Gentle Fitness DVD – The Original Award-Winning Chair Exercise / Chair Yoga Home Program    for Seniors, People Living with Stiffness, Stamina Issues. Therapeutic Breathing, Smart, Fun, and Easy-to-Follow. You Deserve to Feel Good!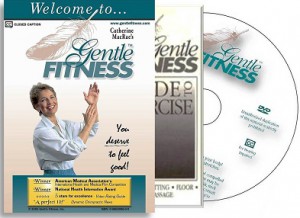 Actor : Catherine MacRae
Format : DVD
Price: $23.90
Where to buy from: Amazon.com
Overall Rating : 4.4 out of 5
Pros
Perfect for the Elderly.
Less than 20minutes.
6 Short Routines
Involves Yoga and Tai Chi
Cons
Music may sound a little outdated.
Limited exercise, not suitable for people who want to get a full body workout.
This DVD comes with a 20-page  "Guide To Exercise," booklet and involves Chair Yoga and Chair Exercise for the elderly. Apart from other conditions in which it proves useful such as fibromyalgia, multiple sclerosis, pain, diabetes, Parkinson's and COPD, it also helps alot with circulation issues. This is why I think it's perfect for tinnitus.
---
Name of Product: Smile & Sway – Workout By Dancing in Your Chair – Low Impact Exercise in Disguise
Actor : Gina Buber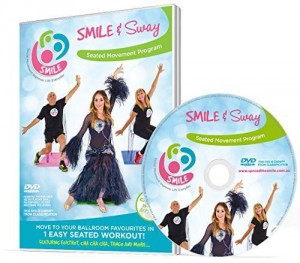 Format : DVD
Price : $19.94
Where to buy : Amazon.com


Overall Rating : 5 out 5
Pros
Suitable for all ages, both young and old.
Have various intensities
Great for those who can't stand for long
Low impact, fun and upbeat.
Indicated for joint pain and limited mobility.
No standing or bending in un-natural positions
Cons
Navigation limitation: the menus limits you access to a specific point on the DVD.
Font Size: Some people have found the text size used to read the list of tunes is small and hard to make out.
I recommend this as one of the easy home exercise workouts because of its versatility. Everyone can use it.It does the job of taking your mind of your tinnitus and at the same time you are not doing any physical harm. You get to do ballroom dancing in a different way. The best part is that its FUN!
3.Chair Yoga Program
Name of Product: Chair Yoga Program – Enjoy the benefits of Yoga in a safe, gentle program. Increase flexibility, range of motion, and core strength. No pretzel poses or getting on the floor
Actress : Anne Pringle Burnell, and Jame Kulackoski(Actor)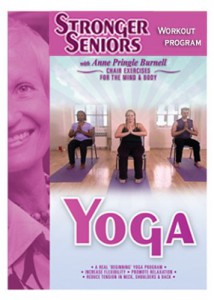 Format : DVD
Where To buy : Amazon.com
Price: $13.59
Overall Rating :4.5 out of 5

Pros
Improves flexibility and energy levels
Excellent for beginners
Allows for

relaxing, stretching and strengthening

of all muscles of the body.
Clear instructions with easy to follow demonstrations.
Cons
Some people have reported the activity may be too slow at times.
Need to position yourself in a way that you can see the trainers whilst doing the workouts
It's no secret that I am a firm believer in yoga and the benefits that it offers. Yoga strengthens your cardiovascular system and works on your breathing. It is amazing what this meditative and relaxing exercise can do for your mind, body and soul.
---
Actress : Angie Miller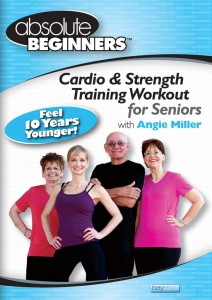 Format : DVD
Price: $9.17
Where to buy : Amazon.com
Overall Rating : 4.5 out of 5
Pros
Great for beginners, low intensity , low impact.
Focuses on

aerobic walking, balance and muscle strength.

Safe and easy to follow.
Cons
Some people may have it found it

slow

and

boring.

Not for people with arthritis and fibromyalgia.
There is a warm-up that introduces all the steps within the actual cardio aerobics.
The cardio aerobics is 22minutes. There is strength training which is 24minutes long. It is optional if you want to use weights in this segment of the workout. I chose this one principally for the cardio workout portion. Remember, an increased blood flow means more oxygen for your ears and the rest of the body. This gives our tinnitus a break from bothering us so much.
Conclusion
Well folks that's it. I thank you for reading my reviews on the home exercise workouts. Thanks for spending your time here. You are awesome.
Have you tried any of these workouts? Did it help you in any way?
Please feel free to share your views or comments below.
Take Care and Kind Regards
Roopesh