So, what is Meniere's Disease?
According to the Merck Manual, it is "a disorder characterized by recurring attacks of disabling vertigo (a whirling sensation), hearing loss and tinnitus."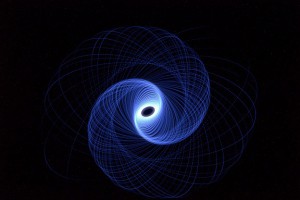 It is  characterized by a fluctuation of hearing loss and depending on the intensity of the condition, the hearing loss can even get to a permanent stage.
According to Wikipedia, it is named after a French physicist by the name of Prosper Meniere. It was stated in an article that he published in 1861, that disorders within the inner ear is responsible for causing vertigo.
Facts about Menieres Disease
About 600 000 people within the US are affected by Menieres disease
This disease may come about without any warning.
60-80% of people recover with or without medical help.
About 45000 new cases are reported each year.
So what actually happens in Meniere's disease?
This disease is thought to be caused by imbalances in the fluid that is present within the inner ear. There is always a certain amount of fluid within the ear. This fluid is constantly been secreted and reabsorbed to maintain a certain amount.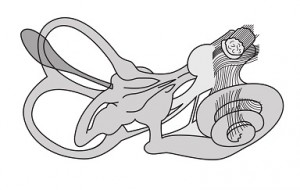 What happens in Meniere's disease, can be as a result of two possibilities.
1.Either there is an increase in the production of fluid within the inner ear, or secondly
2.There is a decrease in the re-absorption of fluid from the inner ear.
The exact reason as to why this equilibrium is disturbed is not known, but needless to say there is an imbalance.It is this swelling of the tissues within the inner ear that causes the person to loose balance and feel disorientated.
Other potential causes of Menieres Disease
Herpes Virus, the harmful effects of this virus can cause Meniere's disease.
Allergies
Auto-Immune Disorders
Constriction of blood vessels.
Common symptoms of Meniere's Disease
There is no definite test or any one symptom that doctors can rely upon to diagnose Meniere's Disease. These are the most common symptoms that they look for,
Vertigo-more than two episodes lasting about 20minutes
Tinnitus- The tinnitus may be constant or intermittent, and may be worse before, during or after an attack of vertigo.
Hearing Loss in one ear
A feeling of fullness in the ear.
What are some of the common diagnostic tools that an E.N.T uses?
Some of the tests that they may ask to be done include the following
Hearing Test

: An audiology exam, can pick up the extent of hearing loss,

MRI(Magnetic Resonance Imaging)

: An x-ray of the brain might show other abnormalities that may have caused Meniere's Disease.

Blood Tests

: such as Auto-immune or Herpes Virus tests.
What are the treatment options for Meniere's Disease(MD)?
So , by now we all know what is Meniere's Disease. The question now is what do we do about? How can we treat it?
There is no cure as yet to treat MD, but there certainly are treatment options available to help one deal with the condition in their lives.
Limiting Salt Intake : Too much salt ingested has the nasty side effect of increasing fluid build-up. This in turn aggravates the pressure within the inner ear, and may cause the person to experience dizziness and in some cases nausea. Please refer to my previous posts entitled, "The TOP 10 Salty Foods to avoid in Tinnitus," whereby I talk about how salt actually increases the fluid levels as well as the most common foods with high salt content.
Diuretics or Water Tablets: Diuretics have the task of  working on the kidney to get rid of excess fluid in the body which decrease the pressure in the ear. Examples include,  Aldactone( Spironolactone).
Medications : Medications such as SERC(Betahistine), work by improving blood flow to the inner ear.Their overall purpose is for the symptomatic treatment of vertigo associated with MD. A word of caution with the use of this drug in people with asthma and peptic ulcers.                                                                                                            There are other drugs such as meclizine, lorazepam or scopolamine that help with the vertigo as well. If the nausea and vomiting is severe than suppositories such as Stemetil(Prochlorperazine), can help.
Reducing fluid pressure in the Ear: If drug therapy proves ineffective, then a procedure called Endolymphatic Shunt procedure,can help to reduce the fluid pressure. This procedure utilizes a thin sheet of plastic material that is inserted into the inner ear and prevents the pressure build up.
Injections:This involves the injection of a solution of an antibiotic called Gentamicin through the eardrum into the middle ear. The purpose of this injection is to destroy the inner ear balance thereby reducing the vertigo.However this procedure can cause hearing loss and long term imbalances. Doctors rather prefer going with an alternative of using corticosteroid injection which does not affect the hearing loss.
Surgery : An option when all else fails. One example of surgery is cutting of the vestibular nerve permanently thereby destroying the inner ear balance yet maintaining the hearing.
Meniere's Disease and ME
As I mentioned before, tinnitus is a symptom rather than a condition or a disease. In my quest to uncover how my tinnitus had come about I was lead to an E.N.T, who is of the opinion that I am one of those people, suffering from Menieres disease.
I have experienced the 'vertigo' and 'feeling like the whole world around me is spinning', twice. These incidents were followed by episodes of vomiting, after which, the next day, I felt great! Even the tinnitus had seemed to lessen remarkably and my hearing was amazing.
As we speak, the tinnitus is still the major symptom that is affecting me. This follows closely behind with a feeling of fullness in the ear and some hearing loss. But no vertigo at all.My audiologist has done regular hearing test on me and confirms a mild hearing loss.There is fluctuation in my hearing and somedays the tinnitus is at its lowest This is reason enough for her to deduce that it is a high possibility that I could be suffering from MD.
Another E.N.T however, is of the opinion that I actually am suffering from a viral infecton, and not Meniere's Disease and that I should take anti-viral medication.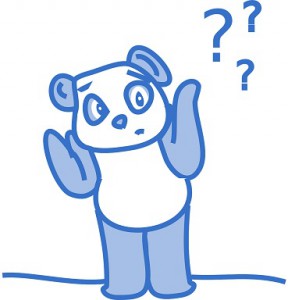 This was all too confusing for me, who do I listen to?
The bottom line here is that I have the tinnitus and it is bothering me and I want to do something about it. Just to let you know, that I am going with the opinion of the first doctor and see what transpires after a period of 6months.
As I mentioned in another one of my posts, titled 'Is Ginkgo Biloba good for Tinnitus?' that I am on other medication.And the medication that I was talking about is the diuretic and Serc. I want to see the results of these medications after 6months before trying anything else, which includes the Ginkgo which is something I really would like to try out.
Conclusion
Thanks for sticking with me throughout this article.I hope that it has enlightened you in some way.You have learnt now, what is Meniere's Disease and understand its relation to tinnitus.
When it comes to tinnitus, its always about trying to find out what triggers it off and how it initially started. This then gives you a sense of direction to follow to treat it and make it more manageable on a daily basis.
So, if we take my case as an example. If my tinnitus is as a result of Meniere's Disease, then taking the medication indicated should provide some relief.Only time will tell.
Is there something on your mind regarding tinnitus, Meniere's Disease or hearing loss?
Give me a shout and let's get talking.
All the best to you.
Looking forward to seeing you again.
Take Care
Roopesh